Are you organising a meal out with friends, family, or colleagues? If you have vegetarian and vegan diets to cater for, finding a restaurant which meets everyone's needs can be tricky. At Napoleons, we design our seasonal menus to be inclusive for all our diners. You won't find yourself having to ask meat eaters to pick something appealing from an exclusively vegan menu. Napoleons' menus have something to meet everyone's tastes.
We are pleased to offer exceptional vegetarian and vegan-friendly dining choices across all our casino restaurants. Whether you choose to dine with us in Sheffield, Manchester, Bradford, Leeds or Hull, there will always be appealing vegetarian and vegan dishes to choose from. Anyone searching for 'vegan food near me' will find something on our menus to cater to their needs. We encourage diners to contact us when they book a table at Napoleons, if they have any specific dietary needs not catered for by our existing vegan menu options.
Whether you are a new to the vegan diet and looking forward to Veganuary or are keen to find new plant-based dishes inspired by your diet, Napoleons are here to provide for you.
Vegan Menu Options at Napoleons
You can be sure Napoleons will present inclusive dietary choices in all food menus, across our five casino restaurants in the north of England. In recent months, Napoleons' kitchen teams have served up delicious, heart-warming spiced tomato, sweet potato, and chickpea cottage pies as part of our selection of vegan meals. If you prefer a tasty burger option, you could tuck into a Thai spice vegetable patty with black onion and sesame crumb.
Our late-night dining menu has travelled further into the delights of vegan burgers, too, with our beetroot and quinoa patties served with pulled aubergine. Napoleons culinary teams will also be only too happy to provide vegan starter and dessert options, too. Just let us know when you book a table with us.
Our vegan menu options are regularly updated, and our menus are always available to view online, so you can check out our plant-based dishes before you visit.
Whether you choose to book a table for our evening dinner service or prefer to take advantage of a vegan menu option from our late-night dining menu after a few games on the casino floor, be sure to take a closer look at all your Napoleons team has on offer ahead of time.
Delicious Vegan Dishes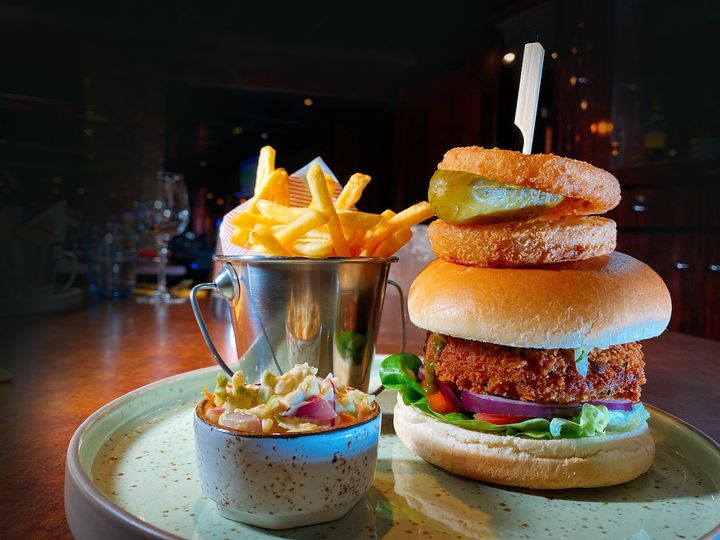 Our chefs design new vegan dishes for each of our casino menus, all of which can be viewed online to whet your appetite. We are also happy to tailor our menu where possible to suit your needs and choices. Therefore, we always encourage you to let us know about any dietary or allergy requirements before you visit. Allergen information is available on request.
Ultimately, our aim is to serve up delicious vegetarian and vegan dishes for everyone who chooses a plant-based diet. From Hull to Manchester, our menus blend fusion-style dining with classic favourites.
Napoleons provides even more than a fun night of gaming. The Napoleons team creates fantastic dining experiences with five-star service, for an evening to remember. That may start at the bar, in the restaurant, or in the gaming lounge – you tailor your Napoleons visit to your own needs.
Dine with Napoleons for Less
Napoleons offers more than a delectable choice of vegan meals to entice diners – you can also take full advantage of our dining offers, helping to make high-quality cuisine all the more affordable.
Napoleons' 3Bs offer for instance, provides you with a burger, a choice of drink and a £5 bet to use in the casino for just £12. Vegan menu options are covered in the offer, as well as part of Napoleons' much-loved Dine in Style package.
Dine in Style is a fantastic choice for those diners who wish to take on the full Napoleons experience. You'll receive a drink when you arrive and will have a prime pick of our three-course menu. In addition, you'll receive a £5 bet to use in your chosen casino. Do make a point to check the prices for Dine in Style based on your location, as the offer and menu varies from venue to venue.
Crucially, Napoleons is committed to offering a wide selection of dining and gaming choices to all. Everyone deserves a wonderful night out every once in a while, and we believe you should never feel restricted or excluded by menu options!
Be sure to view the full menus and Dine in Style offers for your chosen Napoleons online, and don't forget to book your table with us as soon as you can.
Don't be stuck when looking for 'vegan food near me' – let Napoleons welcome you this Autumn!