Leeds is a vibrant city with lots of exciting places and events on offer for fans of culture, dining, and entertainment. If you are planning what to do in Leeds at night, and want to find something different, we've got the perfect night out when you want luxury and excitement.
Napoleons offers authentic gaming experiences, and some of the most delectable late-night food Leeds has to offer. Napoleons Leeds is both a landmark location for a fun, memorable night out, as well as a premier party location.
If you are considering a night out in Leeds, allow Napoleons to offer you some exciting ideas.
Excitement, Gaming and Fun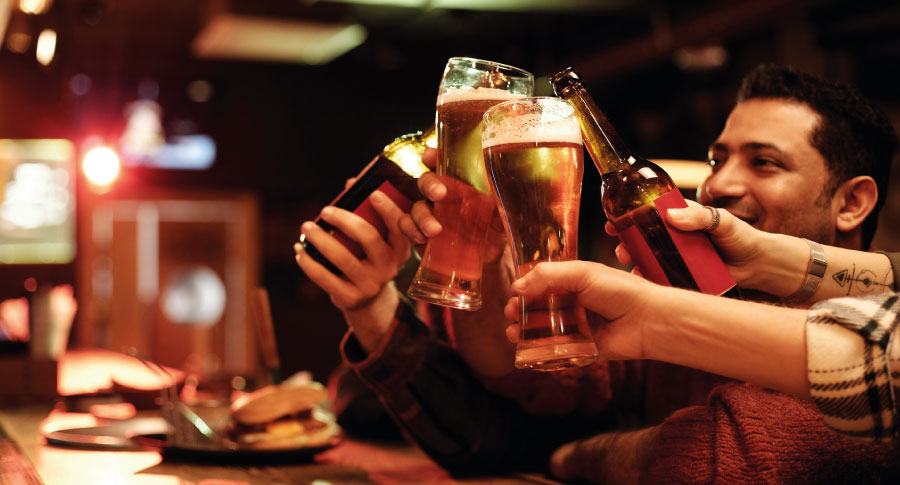 For the most delicious and best value late night food Leeds has on offer, Napoleons Leeds has everything you could possibly need to whet your appetite. Our casino features an evening restaurant, late-night bar, and thrilling gaming experience in the heart of the city. We are delighted to present late-night bar food, available until the early hours.
For evening dining, our dinner menu offers a selection of traditional grills and fusion-style dishes, inspired by cuisine from around the world, in our restaurant until 10:30pm.
Napoleons Leeds is both elegant and relaxed for when you want something more sophisticated than your average night out in Leeds. You'll have access to a selection of wines and gins, carefully curated by our hospitality team. Dine in our restaurant lounge for first-class food and service.
Our team will always have a selection of gins on offer, including a locally distilled Leeds gin, as well as enticing selection of beers and spirits. If you prefer a world-class wine, Napoleons has created an exclusive selection of tastes for you to sample.
Dine in Style in Leeds
Our seasonal restaurant menu is available from 6:30pm to 10:30pm Monday to Saturday. What's more, we are delighted to provide a range of cuisines to suit all budgets.
Dining at Napoleons Leeds is made all the more enticing with our popular Dine in Style package. Take advantage of everything a luxury casino has to offer, for less. Our fantastic-value restaurant offer provides you with a drink on arrival, a choice of three courses from our latest menu, and a £5 bet to use in the casino lounge. This package is available from just £27 per person, allowing you to enjoy the best of Napoleons.
We're pleased to provide dining options to suit all tastes and dietary needs. From warming, home-style cuisine and classics to sizzling grills – and even a touch of world fusion – there is ample choice for diners at our Leeds restaurant.
Don't forget to sample our late-night bar menu when you are on a night out in Leeds. You can sample a delicious selection until 3am every day. Our bar is open from 2pm to 5am Monday to Saturday, giving you every opportunity to enjoy a fantastic night out in Leeds city centre.
Napoleons offers a unique taste of a luxury casino experience you'll not find elsewhere in Leeds. We have been part of the premier nightlife scene in Yorkshire for many years, and our venue remains one of the most popular venues for a night out in Leeds.
Why Choose a Night Out in Leeds?
Whether you are planning a hen or stag do in Leeds, the city provides an exciting variety of nightlife. From bars and clubs to late night entertainment, Leeds offers a fulfilling night out for everyone. However, when you spend an evening at Napoleons, there may not be much need for you to explore the wider city.
Napoleons Leeds is designed to offer the height of luxury casino gaming well into the early hours of the morning. Beyond our superb restaurant and bar, you will also have the chance to explore our gaming lounge, fitted with world-class machines, and our stunning outdoor gaming terrace. Napoleons Leeds is known for its warm welcome, from attentive hospitality staff to highly trained dealers, everyone can relax and enjoy the thrills of our fabulous Leeds casino.
A night out at Napoleons doesn't just have to take place in the games lounge itself. Napoleons Leeds is designed to cater to every aspect of that exciting, memorable night out in the city. Whether you are out with your partner, friends, colleagues, or planning the very best hen party Leeds can offer – our team will always be happy to welcome you to Napoleons.
You can view all of our latest menus and offers online. Please let us know of any dietary requirements when booking.
Make 2022 the year you explore the best of Leeds nightlife, with Napoleons Casino.