Summer is coming to a close, and many of us will already be considering options for this year's Christmas party. Leeds is a city with lots of options for a night out, and this year, many of us will be wanting to make Christmas 2021 a little different, with an added touch of sparkle. If you are looking to book the best or most glamorous Christmas party venue Leeds has to offer, an evening of festive celebrations at Napoleons Casino may just be what you are searching for.
Whether it is a Christmas works do or a gathering of family and friends, Napoleons Casino Leeds will welcome you with plenty of festive cheer this December. Providing a stylish, modern restaurant, bar and games lounge, the Napoleons brand is known for delivering an evening of premier entertainment in Leeds, and across the north of England.
A Touch of Class This Christmas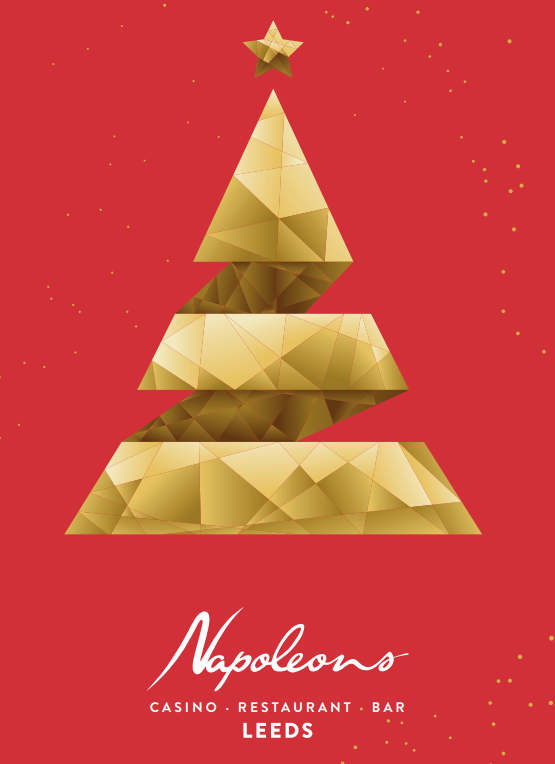 From the moment you enter our Leeds casino, you will receive a warm welcome. Our attentive hospitality team will be ready to help you enjoy the best Christmas party venue Leeds has to offer.
Our world-class chefs have curated a delectable selection of seasonal starters, main courses, desserts, with extra treats for you to sample over the festive season. Before your book, you can view our festive menus online, making it a little easier to plan your Christmas party with friends, or Christmas works do colleagues.
Our team of chefs are proud to present an inclusive menu with delicious choices across lunch and dinner, including festive Sunday lunches. We begin serving a Christmas meal for Leeds from 26th November through to 24th December. Following our December festivities, Napoleons Casino will be helping you welcome 2022 with a cheer, on our New Year's Eve party night.
Napoleons Leeds deliver a best-in-class hospitality experience, from our stunning restaurant and seasonal food selections to our bar service and casino lounge croupiers. As Christmas approaches the Napoleons team will be bursting with anticipation, as the moment approaches when they can get to work on decking out our Leeds casino, decorating from floor to ceiling with festive sparkle. Christmas is always great fun at Napoleons, and we cannot wait to make 2021 extra special for our guests.
Why Choose a Casino Christmas Celebration?
If the prospect of the conventional Christmas meal Leeds has on offer turns you off, check out Christmas at Napoleons Leeds. Against the backdrop of a world-class gaming lounge and exquisite dining suite, a festive evening with Napoleons is one our guests always remember with cheer.
Christmas at Napoleons Leeds offers a wonderful opportunity for you and your party to unwind and celebrate in style. Not only will you have the chance to sample our meticulously designed seasonal menus, but you will also be able to play classic casino games, featuring industry leading casino technology. Gaming tables, machines, and dealer games are all available for you to enjoy, at your own pace.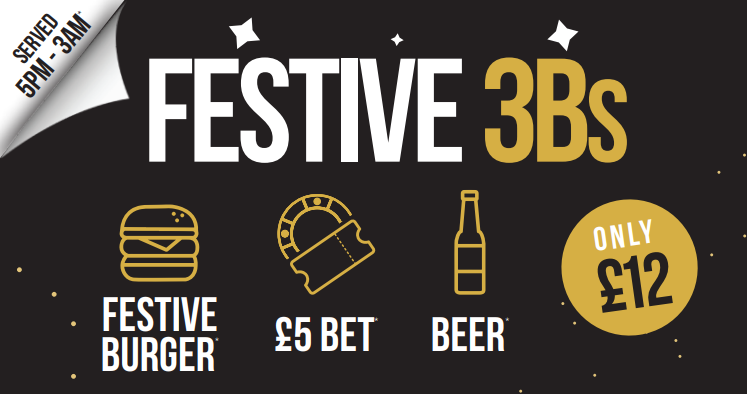 Guests will be able to take full advantage of a festive twist to Napoleons' famous 3Bs offer. For just £12 per head, visitors can enjoy a festive burger, a £5 bet in the casino, and a beer or soft drink from a comprehensive selection. This deal is available from 5pm to 3am (terms apply).
For Christmas dinner, lunch and Sunday dinner bookings, guests can visit Napoleons Leeds from £20 per head. Full details are readily available via our Christmas menus and bookings pages.
Napoleons is committed to not only providing a sensational seasonal celebration for all to enjoy, but one which is affordable to fit your festive budgets, without compromising on glamour and style. It is an ideal opportunity for office parties and friendly gatherings to celebrate together from late November and throughout December.
Book Your Table Today
As one of the nightlife highlights of Leeds city centre, Napoleons is thrilled to open bookings for Christmas and New Year visits. If you'd like to book a Christmas visit at Napoleons Leeds for a table of six or fewer, please consult our online booking form.
If you are booking a table for seven or more guests or would like to speak to our booking team, please call 0113 244 5393. Call our booking team or email us leedsreservations@napoleons-casinos.co.uk
Please note, our hospitality and chef teams are happy to accommodate any specific needs, allergies, or dietary requirements you may have; please let us know when you book, and we will be happy to make dietary-specific preparations for you.
Christmas is quickly approaching – and it is time to start considering the perfect Christmas party venue Leeds has to offer. Napoleons is ready to welcome you for a night of festive cheer and celebrations – we look forward to ringing in Christmas with you and your party this December.