Napoleons Casinos know how to deliver when it comes to big flavours without the price tag. Small plates bursting with big taste are available as part of Napoleons Bar Food & Late Night Menus. Mouth-watering tapas-style dishes are bursting with flavour, delivering a fusion of flavours from around the world right to your local Napoleons Casino branch.
These stunning dishes are perfect for intimate dinners with loved ones or for sharing with friends. Better still, order 3 small plates for just £12. Napoleons fantastic dining offers make great tasting, quality food available to all palates and budgets.
Find out more about small plates dining offers at your local Napoleons Casino: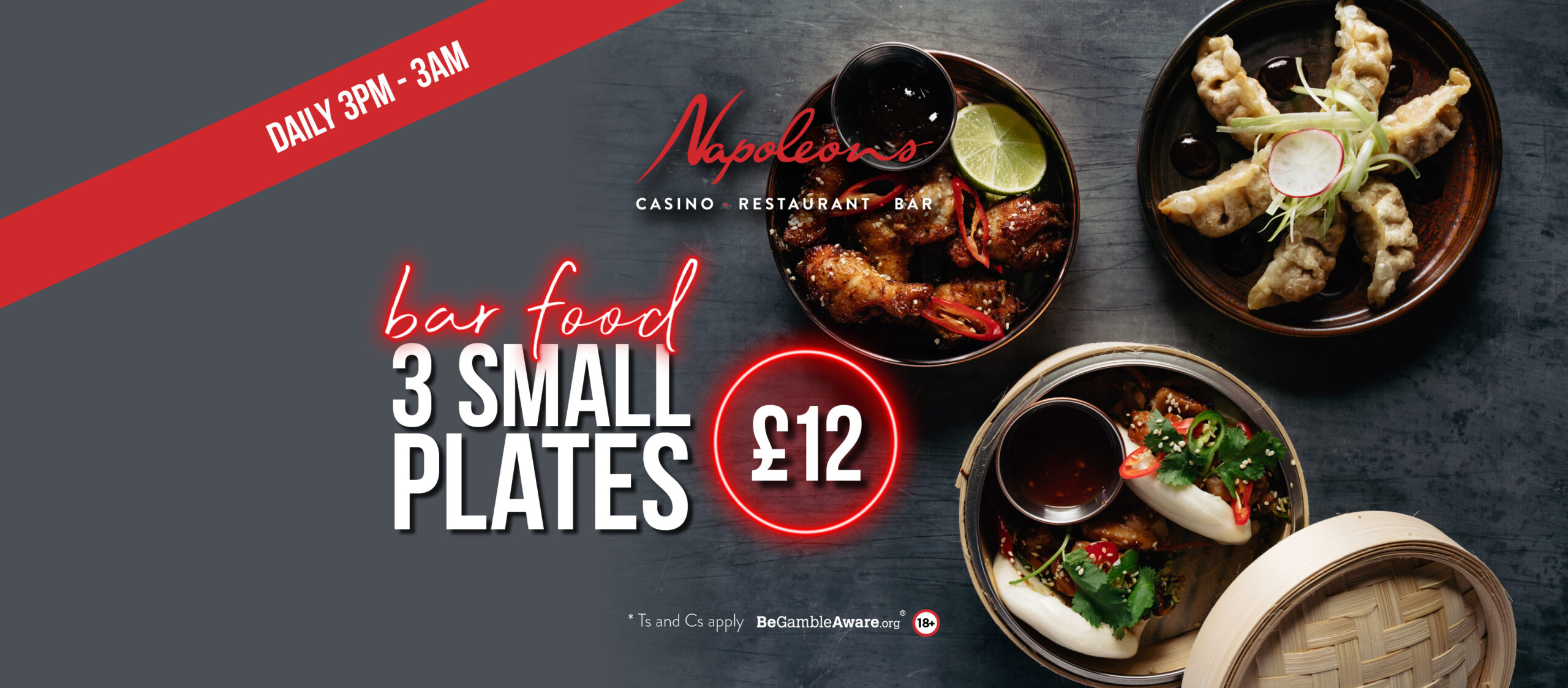 Manchester
Whether you are looking for a place to relax after a busy day exploring the city or a place to begin your night out, Napoleons Manchester dining offers are hard to beat. A perfect pairing of classic casino games and deliciously eclectic menus served until 3am daily. At Napoleons, you can find a quality bite to eat whatever the occasion. Try out our small plates offer, mix and match any 3 small plates for £12 and prepare to experience a fusion of sensational flavours.
What combination of small plates will you choose? Here are some of our favourites:
Rich in flavour and just a little over 200 calories, crispy duck gyozas, hoi sin sauce and spring onions
Bangin' buffalo cauliflower wings, blue cheese dip and celery sticks are so tasty, you might not want to share them
Perfect for vegetarian diets, Napoleons plant-based kofta's are served with an aromatic curried mayonnaise.
Small plates dining offer is available from 5pm – 3am every day from Napoleons Manchester's Bar & Late Night Menu
Sheffield
The Steel City is a prime location for all things sport, music, and great food! Whatever the reason for your visit, Napoleons Casino Sheffield is a local hit when it comes to late-night dining. Delicious dishes are served until late so visitors can dine at one of Sheffield's top eateries at a time to suit them. Choose from 3-course meals, a succulent range of proper burgers, or small tapas-style plates. Napoleons Sheffield dining offers are packed full of quality food to complement the exceptional standard of casino gaming on offer.
Here are a selection of Napoleons Sheffield's favourite small plates, a selection very much favouring Mediterranean cuisine, all for just £12:
Meatballs in a spiced tomato sauce with parmesan and garlic croutes
Pizza fries served with tomato sauce, pepperoni, and mozzarella cheese
Garlic ciabatta with mozzarella cheese and pesto
See the full range of small plates available from Napoleons Sheffield every day, from 5pm until 3am, as part of the Bar & Late Night Menu.
Leeds
Visiting the vibrant city of Leeds? Whet your appetite with a selection of delectable yet affordable late-night food at Napoleons Casino Leeds. Located in the city centre, this traditional casino boasts a contemporary restaurant, late-night bar, and an exhilarating gaming experience. Small plate fusion cuisine is served until the small hours as part of Napoleons Bar Food & Late Night Menu. Visitors are guaranteed a tempting selection of quality food late into the night with Napoleons Leeds dining offers.
Why not try something new? Our small plates offer delivers a fusion of flavours from around the world to mix and match, that's 3 delicious plates for just £12! Check out Napoleons Leeds favourite small plates, all distinctly Asian-inspired:
Chicken Yakitori Bao Buns, cabbage and radish salad, sweet chilli dressing
Honey and sesame chicken wings, Korean BBQ sauce
Tempura king prawns with garlic and lemon mayonnaise.
View the small plates range, available every day from 5pm until 3am, part of Napoleons Leeds Bar & Late Night Menu.
Hull
Taking a trip to the dynamic city of Hull? The coastal city is perfect for a day trip or a weekend break, with plenty on offer for a few fun-filled days away! Make a beeline for Napoleons Casino Hull where you can enjoy a traditional casino experience and outstanding food, all under one roof. Visitors can make the most of quality late-night dining, welcoming Yorkshire hospitality, a superb selection of casino classics, and two well-appointed bars.
Take advantage of Hull dining offers available every day at Napoleons Casino, offering fantastic value late into the night. Get yourself a little bit of everything! Mix and match 3 small plates for £12. Here's a selection of Napoleons Hull's most popular small plates:
Chinese five spice coated squid served with kimchi slaw
Loaded onion rings topped with crispy bacon, mozzarella cheese, red onions, and sour cream
Onion bhajis served with mint raita dip
Napoleons small plates dining offer is available from 5pm – 3am every day, part of the Hull casino Bar & Late Night Menu.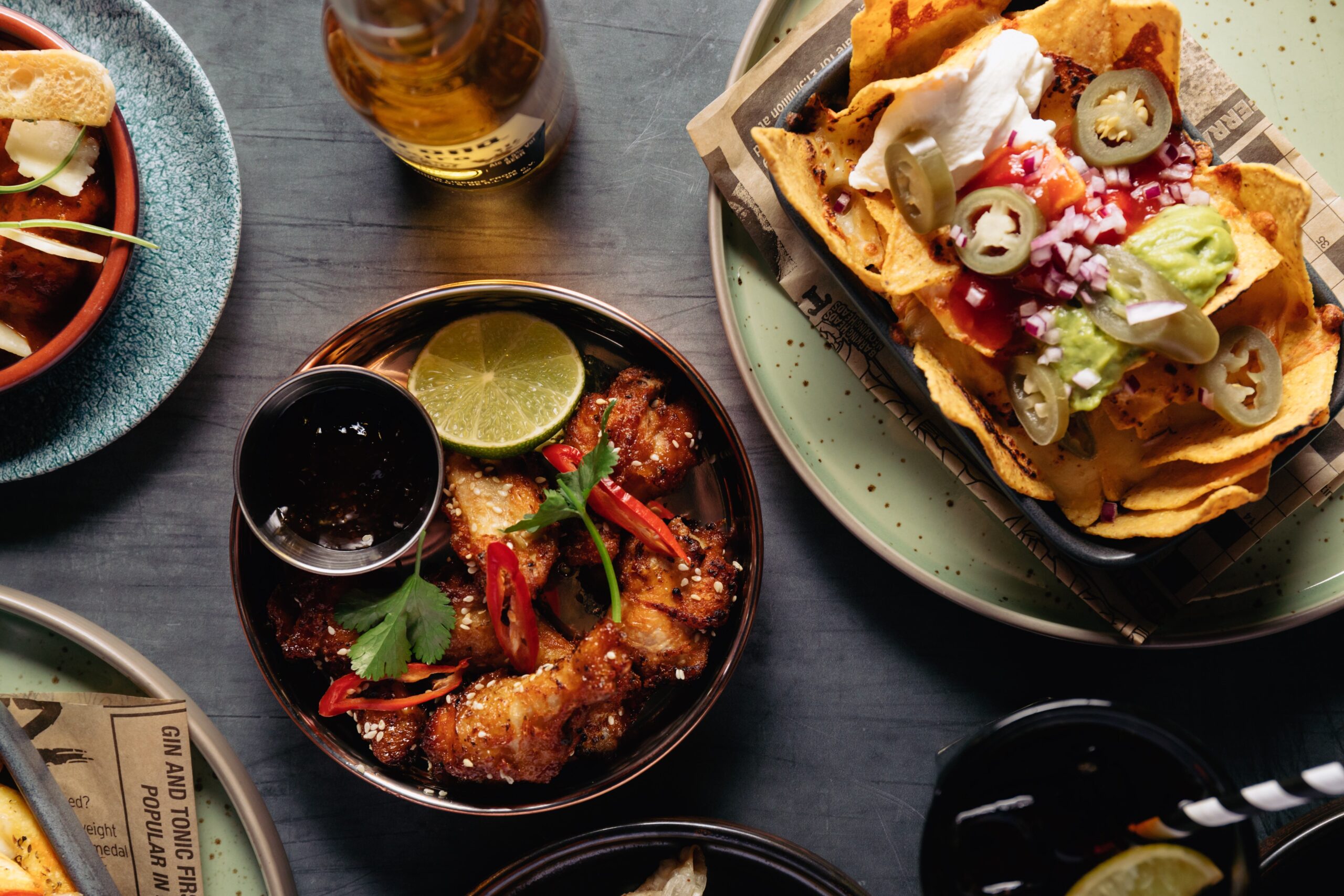 Whichever Napoleons Casino branch is local to you, head on down for an all-round quality dining and gaming experience, made all the more affordable with Napoleons dining offers. Our friendly staff are waiting to welcome you!